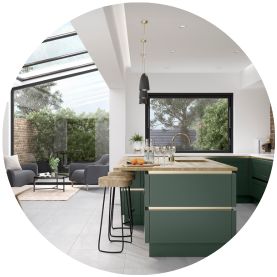 Neil Gallagher
Project Manager
At Edition Kitchens, we step beyond design, supply, and fitting. We're alongside you throughout the entire journey, making sure your new kitchen is everything you've envisioned. Once we've finalised the design, we introduce you to your dedicated project manager. Your project manager handles the nitty-gritty details, sets up timelines, organises installations, and provides support to ensure that the process is smooth and hassle-free.

Here's how your Project Manager can assist you:
Design Expertise: Our team of talented designers combine creativity with functionality, ensuring that your kitchen not only looks stunning, but also serves your unique needs. With a keen eye for detail, we transform spaces building on your initial vision to create a design that works for you and your family.
The Edition Approach: After decades of working in this industry, we understand that the whole process of remodelling a kitchen can be daunting. We work closely with you to deeply understand your vision, design preferences and lifestyle. From initial design to snagging, we keep you involved at every step to ensure that the end-result truly reflects your personality and exceeds your expectations.
Three decades of Experience: With over three decades of experience in quality and functional design, We bring a wealth of expertise to every project. You can trust our knowledge and project management skills to deliver exceptional results.Please feel free to request some client testimonials from us.
Customised Solutions: We understand that every project is unique, and we work closely with you to understand your requirements. We aim to provide sustainable design solutions that align with your project needs and budget constraints.Many of our clients opt to include "budget-bespoke" options, which adds to the management and organisation of your project. Your dedicated PM will liaise with our workshop to ensure all bespoke pieces are scheduled to meet your initial timeline.
Client Satisfaction: Your satisfaction is our ultimate goal. We strive to exceed your expectations by delivering outstanding service, attention to detail, and a focus on your specific requirements.
Our key areas of expertise include:
Design Understanding
Design Proposals
Pre-Planning Discussions
Problem Solving
Timeline Management
Budget Management
3D Design Work
Client/Design Team Communication
Appliances
Finishes
Installation Inspection
Client Relations
The Edition team is here to support you throughout the entire process, from initial concept to the final stages of kitchen installation and snagging. Let us take care of your project and ensure a successful kitchen design that meets your vision and requirements.